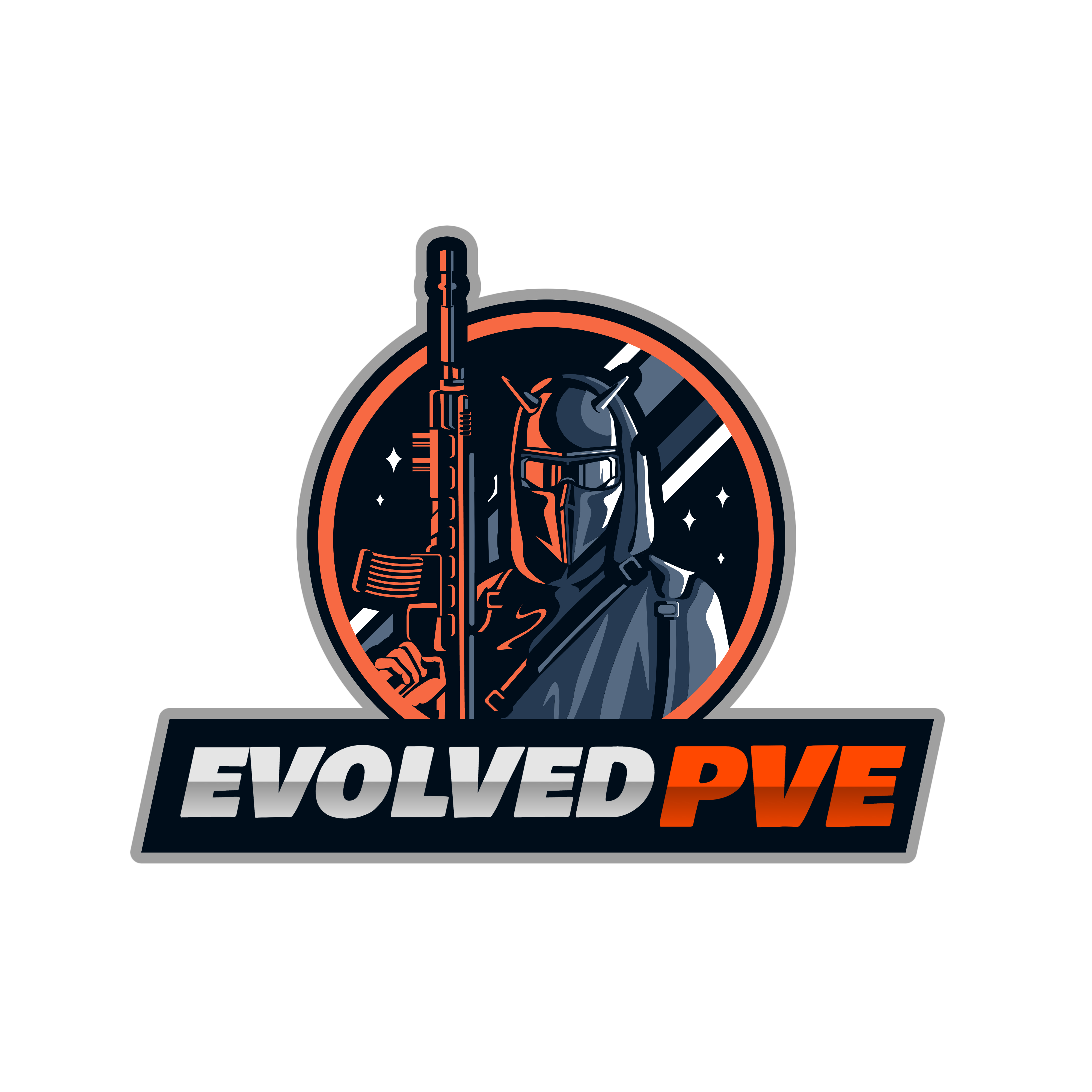 Evolved
To keep the server fun for everyone, we expect all players to stick to the rules listed below.
Violating these might result in a warning/kick, or a temporary/permanent ban depending on the violation and severity.
WARNINGS - KICKS - BANS
All official warnings/kicks and all bans are posted in the server's Discord in the #action-logs channel.
Ban appeals can be made through the Website Ticket System.
GENERAL EXPECTATIONS
- This is a friendly server, don't be a dick to others.
- Your in-game name should match your Discord name.
- In-game names must be in English characters.
- Killing and looting players is not allowed.
- Do not place sexual or explicit images or drawings on signs, those will be removed and punished.
- The global chat language is English only, if you want to speak another language, create a team and use Team chat.
- Attempting to bypass the rules or not following them, will lead to a warning/kick, or ban.
- If you have a problem with a feature that got added to the server, don't start drama about it, but instead start a civil discussion.
IN-GAME CHAT
- Do not spam/flood the in-game chat with nonsense.
- Do not call out cheaters/exploiters, or hackers in chat, report them to staff in private.
- Swearing in chat is fine, but don't do it excessively.
- Acting as a staff member when you are not. This could be telling a player they will be punished instead of going to a staff member to have them take care of the situation.
- We do not tolerate saying the name of any other server(s) while on our server. This is punishable by being publicly said, or privately. For this, you will be temp-banned.
PLAYER CONDUCT
- Do not interfere with staff business, if a member of staff is working on something with a player, you are not supposed to tell the staff how to do their work, nor are you supposed to interrupt by telling the player what to do.
- Not one player or team is more valuable than our community at large. If we get excessive complaints about a person or team, and/or if their actions, attitude, or behaviour is driving people (staff or community) off our server intentionally or otherwise, they may be removed from this community.
- No promoting/advertising of other Discords or Rust servers.
- You may be banned without warning for:
   * Being staff/owner for a competing Rust server.
   * Trying to recruit from our community for other servers.
   * Aiding in the creation and/or promotion of another server.
   * Taking ideas, strategies, events, etc, from our server to replicate for a competing server.
- Staff will aid in investigating player reports and concerns, make sure when reaching out to staff for help to include what you need help with, spamming "STAFF" or "HELP" is not appropriate.
- Spamming voice, in-game chat, private messages, or Discord text/voice channels with staff pings or toxicity may result in a kick and/or ban.
- Report evidence and concerns of staff to "Skillz" on our Discord.
- Anyone found threatening, attempting or succeeding at either an attack or threat will be permanently removed from our server. Though you will not be allowed to appeal. Incase of DDOS attacks you will be reported to the authorities, as Denial of Service Attacks are a Felony.
PVE SPECIFIC RULES
- It's strictly forbidden to loot other players, grief, and enter their bases without their permission!
- Authorizing in someone else's TC without permission will be severely punished.
- Modifying the base of another player or placing ladders on it is forbidden and will be punished.
- If you refuse to leave a players base after asked to do so, they are allowed to kill you.
   * They are required to say something about the incident in chat for staff logging purposes.
REPORTS & BANS
- Any player with a VAC ban in the last 3 months, receives a player complaint or has any questionable activity may be removed by staff.
- Playing on an alternate account when your main account is banned is considered ban evasion and will escalate the original ban.
- It is not considered abuse if a staff member kills a player breaking the rules. That is a staff member removing a rule-breaker from a situation.
ROLEPLAYING
- Harassment, racism and explicit sexual content are not accepted in RP.
- Don't make offensive "RP" with hate groups.
- RP isn't required, but encouraged. Please respect other groups.
- You cannot push RP on other players that do not wish to participate.
- You HAVE to use in-game voice chat while doing RP.
- Don't use RP as an excuse to kill players.
- Respect people that are RP'ing, don't ruin their RP session.
AIRDROPS
- Every 15 minutes (IRL), a random airdrop spawns.
- To prevent FPS drops on the server, please throw a maximum of 5 airdrops per player at a time.
- Supply signals should only be thrown near your own base.
- Accidental disappearing Airdrops will not be replaced with a new one through Staff.
BEHAVIOUR
- Respect every player at all times!
- Stealing from players is not allowed.
   * You are allowed to loot decaying bases.
- Killing other players is not allowed.
- Stay with the public quarry/oilpump/excavator when using it.
   * Note: In case you go AFK/Abandon it, other players are free to take everything.
- No discrimination, humiliation or harassment of any kind towards other players.
- Promoting violence, religions, politics or terrorism is strictly forbidden.
- Do not cheat, hack, or use glitches. This will result in an instant ban.
- Respect Staff! They will decide about you. Harassment or disrespectful behaviour will result in a kick or ban.
- If you're a VIP, bear in mind that the rules are also for you.
- Regardless of your playtime on the server, do not act like you are better than anyone else.
BRADLEY APC
- It's strictly forbidden to camp or time the respawn for the Bradley APC, give all players a chance to kill it.
- If you have not assisted in killing the Bradley APC (Vanilla), you are not allowed to look at/loot the crates.
PATROL HELICOPTER
- Every 2-3 IRL hours a public patrol helicopter will spawn.
- When someone is taking the public patrol helicopter, do not steal that helicopter away from them.
- If you are stacked with loot already, give other players/teams a chance to take out the public patrol helicopter.
- Players can also call in personal patrol helicopter fight with /callheli.
   * After a personal helicopter is taken down, the crates will be locked for the person who called it.
BUILDING
- Make sure you have a TC and add enough resources to prevent your base from decaying.
- Building Limit: Max 80 foundations (Any combination) and 10 floors high. Structures too big will be removed without warning.
- It's forbidden to place more than 4 external TC's.
- Do not build over or around loot crates.
- Do not block access to monuments or caves.
- Keep roads/rivers clear for cars/boats to pass! Anything blocking a road/river will be removed without warning.
- Turrets/Shotgun Traps/SAM Sites are not allowed to be placed outside your base, not even inside your compound. (Anti-Raiding is active)
- Trap bases are not allowed.
- You cannot place Landmines, Beartraps, or floor spikes outside.
- Builds that are excessive in the use of lights/signs/rugs/furnaces etc, that cause FPS issues may be forced to reduce those entities.
- To limit entities, planters are limited to 24 per team, 12 for solo players.
- It is not allowed to build in the ocean away from the main island. (Unless it's on shallow water/ice packs)
- Make sure to lock your doors/windows to prevent unwanted players from walking inside your base.
- Players can only claim 1 custom buildable monument.
- You are only allowed to use 4 wind turbines.
- Do not wall off an island, monuments or large chunks of land.
- If you are found building a structure that is inappropriate, you will temporarely be removed from our server.
TEAMS
- Teams can have 8 members max.
- Team members are allowed to have fun in killing each other. But don't overdo it.
SIGN ARTIST USAGE
- No inappropriate or offensive images may be posted outside or within public view.
- Any images deemed inappropriate will be deleted, and any images depicting racism, sexism, hate speech, or illegal activities will result in a ban regardless where they are placed.
VPN / PROXY USAGE
- Players using a VPN or Proxy will be required to disable their service before connecting to Evolved.
- This is to help with keeping hackers/cheaters out of our community.
GeForce Now triggers the VPN / Proxy alert.
If you are a GeForce Now user and you would like to play on Evolved, please alert Management on Discord, to be whitelisted for the server.
VEHICLE GUIDELINES
- Vehicles obtained with the /buy command stay with the player for the entire wipe. Players may despawn (/kill) and recall them at will. However, there is a short cooldown after despawning a vehicle that players must wait out before spawning the vehicle again.
- Other players are allowed to enter any vehicle, but only owners or their team mates may enter the driver's seat.
- Owners can recall or despawn the vehicle even if other players are sitting in it or using it.
- Vehicles do not decay, but they may despawn after an extended period of being unused.
- Vehicles have a right of way on roads/rails/water. Meaning if you get hit by a Car on a road, train on rails, boats on water, it is your fault. If someone is caught intentionally abusing this rule they will be punished.
- If a car runs over a person off-road, the car is at fault and is subject to punishment.
- If you do run someone over by accident, do not loot them, but instead help them get back to their body.
END OF WIPE
- There is no Purge set on this server. PVE rules will extend up until wipe.
- End of wipe events may take place on the final day of the wipe. We encourage the community to give us feedback on what type of events they would like to see.
- Join our Discord to give your input about what you would like to see!
Last Updated: November 1st, 2022
By using EvolvedPVE platforms and/or services, you agree to be bound by these Terms & Conditions so we recommend you spend the time to read it.
These Terms and Conditions of Use ("Terms" or "Terms and Conditions") govern your use of the https://www.evolvedpve.com website, our Rust servers, our Digital VIP service, all content and software associated with our service, or any other service (each, or collectively, the "Service") provided by EvolvedPVE ("EvolvedPVE", "us", "we", or "our").
Please read these Terms and Conditions carefully before using the Service. By using the Service or by clicking to accept or agree to the Terms and Conditions when this option is made available to you, you accept and agree to be bound by and to abide by, these Terms and Conditions and our Privacy Policy, incorporated herein by reference. These Terms and Conditions apply to all visitors, users and others who access or use the Service. If you do not want to agree to these Terms and Conditions or the Privacy Policy, you must not access or use the Service.
We reserve the right to update and change these Terms and Conditions without notice.
Account Terms
You are responsible for maintaining the security of your account and password. EvolvedPVE cannot and will not be liable for any loss or damage from your failure to comply with this security obligation. You must notify us immediately upon becoming aware of any breach of security or unauthorized use of your account.
You are responsible for all activity that occurs under your account.
You may not use the Service for any illegal purpose or to violate any laws in your province, territory or country.
You must provide a valid email address and any other information requested in order to complete the signup process.
Your login may only be used by one person - a single login shared by multiple people is not permitted.
You must be a human. Accounts registered by "bots" or other automated methods are not permitted.
The Service is offered and available to users who are at least 16 years of age for residents of the United States, or the age of majority in your province, territory or country. By using the Service, you represent and warrant that you are of legal age to form a binding contract with us and meet all of our eligibility requirements. Individuals under the age of 16, or applicable age of majority, may use our Service only with the consent of a parent or legal guardian and only under such parent's or legal guardian's account. If you do not meet all of these requirements, you must not access or use the Service.
General Conditions
Your use of the Service is at your sole risk. Service is provided on an "as is" and "as available" basis.
Technical support and request for cancellation of subscriptions is only provided via the support ticket system.
You understand that EvolvedPVE uses third party vendors and hosting partners to provide the necessary hardware, software, networking, storage, and related technology required to run the Service.
You agree to use the Service, including all features and functionalities associated therewith, in accordance with all applicable laws, rules and regulations, or other restrictions on use of the Service or content therein. Except as exsplicitly authorized in these Terms, you agree not the archive, download, reproduce, distribute, modify, display, perform, publish, license, create derivative works from, offer for sale, or use content and information contained on or obtained from or through the Service. You also agree not to circumvent, remove, alter, deactivate, degrade or thwart any of the content protections in the Service; use any robot, spider, scraper or other automated means to access the Service; decompile, reverse engineer or disassemble any software or other products or processes accessible through the Service; insert any code or product or manipulate the content of the Service in any way; or use any data mining, data gathering or extraction method. In addition, you agree not to upload, post, e-mail or otherwise send or transmit any material designed to interrupt, destroy or limit the functionality of any computer software or hardware or telecommunications equipment associated with the Service, including any software viruses or any other computer code, files or programs.
You must not modify another website so as to falsely imply that it is associated with the Service or EvolvedPVE.
You agree not to reproduce, duplicate, copy, sell, resell or exploit any portion of the Service, use of the Service, or access to the Service without the express written permission by EvolvedPVE.
We may, but have no obligation to, remove content and accounts that we determine in our sole discretion are unlawful or violate these Terms.
Verbal, physical, written or other abuse (including threats of abuse or retribution) of any customer support member or account member will result in immediate account suspension with forfeiture of any active subscriptions you may have, without any refund or compensation. It will result in being removed, temporarily or permanently, from the Service, at our sole discretion.
You understand that the technical processing and transmission of the Service, including your content, may be transferred unencrypted and involve (a) transmissions over various networks; and (b) changes to conform and adapt to technical requirements of connecting networks or devices.
EvolvedPVE does not warrant that (i) the Service will meet your specific requirements, (ii) the Service will be uninterrupted, timely, secure, or error-free, (iii) the results that may be obtained from the use of the Service will be accurate or reliable, (iv) the quality of any products, services, information, or other material purchased or obtained by you through the Service will meet your expectations, and (v) any errors in the Service will be corrected.
You expressly understand and agree that EvolvedPVE shall not be liable for any direct, indirect, incidental, special, consequential or exemplary damages, including but not limited to, damages for loss of profits, goodwill, use, data or other intangible losses (even if the Company has been advised of the possibility of such damages), resulting from: (i) the use of the inability to use the service; (ii) the cost of procurement of substitute goods and services resulting from any goods, data, information or services purchased or obtained or messages received or transactions entered into through of from the service; (iii) unauthorized access to or alteration of your transmissions or data; (iv) statements or conduct of any third party on the service; (v) or any other matter relating to the service.
The failure of EvolvedPVE to exercise or enforce any right or provision of the Terms shall not constitute a waiver of such right or provision. The Terms constitutes the entire agreement between you and EvolvedPVE and govern your use of the Service, superseding any prior agreements between you and EvolvedPVE (including, but not limited to, any prior versions of the Terms).
Any new features that augment or enhance the current Service, including the release of new tools and resources, shall be subject to the Terms, Continued use of the Service after any such changes shall constitute your acceptance of and consent to such changes.
VIP Terms
VIP allows the player to bypass any player queues when connecting to our servers, which may or may not exist when the player connects to the server. The SteamID64 that is entered during checkout identifies the player the VIP will be applied to.
Each VIP is only valid for one (1) SteamID64.
VIP does not exempt players from adhering to our server rules (found at https://www.evolvedpve.com/wiki/guidelines/server-rules)(the "Server Rules"). If we determine that you have violated our Server Rules and/or these Terms, we reserve the right, at any time without notice, to suspend or terminate your ability to connect to any of our servers without refund of any payment.
Changes to the Service and Prices
EvolvedPVE reserves the right at any time, and from time to time to modify or discontinue, temporarily or permanently, any immaterial parts of the Service (e.g., offerings, packages, passes, etc.) with or without notice.
Prices of the Service are subject to change. Notice of any price change may be provided at any time posting the change on the website or by direct notice to account members.
EvolvedPVE shall not be liable to you or to any third party for any price change, or modification of the Service.
Your continued use of the Service after any price change comes into effect constitutes your agreement to pay the modified price amount.
Monetary Refunds
Depending on the circumstances we do offer refunds. To see if you're eligible send us a request on our Discord #support section.
Payment Disputes and Chargebacks
If you believe an invoice is incorrect, you must contact us via our support ticket system within thirty (30) days of the invoice date on the incorrect invoice in order to be eligible for an adjustment or account credit.
You agree to contact us immediately via the support ticket system from the account that you used to purchase if you encounter any issues with your purchase.
If a dispute/chargeback is filed, we reserve the right to suspend your access to the Service until the dispute/chargeback is resolved to our satisfaction. If the original dispute/chargeback is not reversed or otherwise resolved, EvolvedPVE may, at its sole discretion, terminate your account and prevent you from creating another account with us. While the resolution of a dispute/chargeback is pending, we will not accept reimbursements or use of a different credit card or other forms of payment in order to activate your access to the Service. There will be no refunds or credits for any periods of suspension of for any account terminations resulting from account disputes or chargebacks.
If we determine in our sole discretion that you have or are: (i) intentionally using the Service and filing a dispute/chargeback, (ii) stealing someone's identity and billing information, or (iii) hacking our Service, then your account will be immediately terminated and you will no longer have access to the Service.
Accounts
You are responsible for updating and maintaining the accuracy of all information you provide to us relating to your account, including payment information. We can terminate your account or suspend your account if we cannot process the payment for your account due incorrect information. We are not obligated to provide credit or other remedy for accounts suspended by either our representatitve or by our automated processes.
EvolvedPVE has the right to suspend or terminate your account and refuse any and all current or future use of the Service if EvolvedPVE determines, in its sole discretion, that you have violated these Terms and Conditions or pose a threat to EvolvedPVE, its staff, business partners, users or the public. Such termination of the Service will result in the deactivation or deletion of your account, and the forfeiture and relinquishment of all subscription(s) on your account. We reserve the right to refuse to accept business from anyone for any reason at any time.
You can submit a support ticket here - https://www.evolvedpve.com/support/tickets/create to request deletion of your account. If you request immediate deletion of your account while you have an active subscription, you will immediately lose access to our Service resulting in the forfeiture of any remaining time left on your subscription without any refund.
You account can not be recovered once it has been deleted.
Links to Other Websites
Our Service may contain links to third-party websites or services that are not owned or controlled by EvolvedPVE. These links are provided solely as a convenience to you and are not an endorsement by EvolvedPVE of the contents of those other sites. EvolvedPVE is not responsible for the content of any linked sites and makes no representations regarding the content or accuracy of materials on such sites. We strongly advise you to read the terms and conditions and privacy policies of any third-party websites or services that you visit.
EvolvedPVE has no control over, and assumes no responsibility for, the content, privacy policies, or practices of any third party websites or services. You further acknowledge and agree that EvolvedPVE shall be not responsible or liable, directly or indirectly, for any damage or loss caused or alleged to be caused by or in connection with the use of or reliance on any such content, goods or services available on or through any such websites or services.
If you decide to access any of the third-party websites linked in our Service, you do so entirely at your own risk and subject to the terms and conditions of use for such websites.
Termination
We may terminate or suspend your account immediately, without prior notice or liability, if you violate these Terms or are engaged in illegal or fraudulent use of the Service. Upon termination, your right to access and use the Service will immediately cease.
Disclaimer
THE SERVICE IS PROVIDED ON AN "AS IS" AND "AS AVAILABLE" BASIS. THE SERVICE IS PROVIDED WITHOUT WARRANTIES OF ANY KIND, WHETHER EXPRESS OR IMPLIED, INCLUDING, BUT NOT LIMITED TO, THE IMPLIED WARRANTIES OF MERCHANTABILITY, FITNESS FOR A PARTICULAR PURPOSE OR USE, NON-INFRINGEMENT OR COURSE OF PERFORMANCE.
EVOLVEDPVE, ITS SUBSIDIARIES, AFFILIATES, AND ITS LICENSORS DO NOT WARRANT THAT A) THE SERVICE WILL FUNCTION UNINTERRUPTED, ERROR-FREE, SECURELY OR BE AVAILABLE AT ANY PARTICULAR TIME OR LOCATION; B) ANY ERRORS OR DEFECTS WILL BE CORRECTED; C) THE SERVICE IS FREE OF VIRUSES OR OTHER HARMFUL COMPONENTS; OR D) THE RESULTS OF USING THE SERVICE WILL MEET YOUR REQUIREMENTS.
Changes; Assignment
We reserve the right, at our sole discretion, to modify or replace these Terms at any time. We may revise and update these Terms from time to time at our sole discretion. If we make changes to these Terms and Conditions that, in our sole discretion, are material, we will provide you with notice as appropriate under the circumstances.  All changes are effective immediately when we post them, and apply to all access to and use of the Service thereafter. 
Your continued use of the Service following the posting of revised Terms means that you accept and agree to the changes. You are expected to check this page from time to time so you are aware of any changes, as they are binding to you. If you do not agree to the new terms, you are required to stop using the Service.
Effective Date: November 9th, 2022
Overview
This page informs you of the practices of EvolvedPVE ("EvolvedPVE", "us", "we" or "our"), including your choices, regarding the collection, use and disclosure of certain information, including your personal information when you use our https://www.evolvedpve.com website, our Rust servers, our digital VIP service, all content and software associated with our service, or any other service we provide (each, or collectively, the "Service").
By using the Service, you agree to the collection and use of information in accordance with this policy. Capitalized terms used but not defined in this Privacy Policy have the respective meanings set forth in our Terms and Conditions of Use, which is incorporated herein by reference.
Types of Information Collected
We receive and store information about you such as:
Personal Data
While using our Service, we may ask you to provide us with certain personally identifiable information that can be used to contact or identify you ("Personal Data"). Personally identifiable information may include, but is not limited to:
Email address;
First name and last name;
Address, Region/State, Province, ZIP/Postal code, City, Country; and
Payment method(s).
Usage Data
We collect standard technical information, such as your Internet Protocol (IP) address, browser type, browser version, the pages of our Service that you visit, the time and date of your visit, the time spent on those pages, unique device identifiers and other diagnostic data. This information is kept primarily to assist us in diagnosing technical problems and to prevent fraud and abuse of our Service.
When you submit a support ticket with a question or to ask for help, we store that correspondence, and the email address, for future reference. We also store any information you volunteer, including responses to surveys.
We also obtain information from other sources. We protect this information according to the practices described in this Privacy Policy, plus any additional restrictions imposed by the source of the data. These sources vary over time, but could include:  service providers that help us determine a location based on your IP address in order to customize our service and for other uses consistent with this Privacy Policy; and payment service providers who provide us with payment information, or updates to that information, based on their relationship with you.
Tracking & Cookies Data
Like many websites, we use "cookies" to collect additional website usage data and to improve our services. Cookies are files with a small amount of data which may include an anonymous unique identifier. Cookies are sent to your browser from a website and stored on your device. We use cookies and similar tracking technologies to track the activity on our Service.
You can remove or block cookies using the settings on your browser. However, if you do not accept cookies, it may impact your use of or you may not be able to use some portions of our Service.
Use of Data
We use information to provide, analyze, administer, enhance and personalize our Service and marketing efforts, to process your registration, your orders and your payments, and to communicate with you on these and other topics. For example, we use information to:
To provide and maintain our Service;
To notify you about changes to our Service;
To allow you to participate in interactive features of our Service when you choose to do so;
To provide customer support;
To gather analysis or valuable information so that we can improve our Service;
To monitor the usage of our Service;
To detect, prevent and address technical issues;
To provide you with news, special offers and general information about other goods, services and events which we offer that are similar to those that you have already purchased or enquired about unless you have opted not to receive such information.
Where we have your consent, we may use your Personal Data to contact you with newsletters, marketing or promotional materials and other information that may be of interest to you. You may opt out of receiving any, or all, of these communications from us by following the unsubscribe link provided in any email we send.
We disclose your information for certain purposes and to third parties, as described below:
To provide products or services you've requested, with your permission. We use other companies, agents or contractors ("Service Providers") to perform services on our behalf or to assist us with the provision of services to you. For example, we may engage Service Providers to provide marketing, advertising, communications, infrastructure and IT services, to personalize and optimize our service, to process credit card transactions or other payment methods, to provide customer service, to analyze and enhance data (including data about users' interactions with our service), and to process and administer consumer surveys. In the course of providing such services, these Service Providers may have access to your personal or other information. We do not authorize them to use or disclose your personal information except in connection with providing their services.
To investigate, prevent, or take action regarding illegal activities, suspected fraud, situations involving potential threats to the physical safety of any person, violations of our Terms and Conditions of Use, or as otherwise required by law.
In connection with any reorganization, restructuring, merger or sale, or other transfer of assets, we will transfer information, including personal information, provided that the receiving party agrees to respect your personal information in a manner that is consistent with our Privacy Policy.
We may offer joint promotions or programs that, in order for your participation, will require us to share your information with third parties. In fulfilling these types of promotions, we may share your name and other information in connection with fulfilling the incentive. Please note that these third parties are responsible for their own privacy practices.
EvolvedPVE does not share an individual's personal data with non-agent third parties. If this policy changes in the future, we will notify individuals and provide them with an opportunity to opt-out of having their data shared.
Retention of Data
We will retain your information for as long as you maintain an account with us or as needed to provide you with our Service.  We will retain and use your Personal Data to comply with our legal obligations (for example, if we are required to retain your data to comply with applicable laws), resolve disputes and enforce our legal agreements and policies.  We will also use your information to provide you with relevant content, advertisements, promotions and marketing materials.
EvolvedPVE will also retain Usage Data for internal analysis purposes. This data is used to strengthen the security or to improve the functionality of our Service, or we are legally obligated to retain this data.
Transfer of Data
Your information, including Personal Data, may be transferred to — and maintained on — computers located outside of your state, province, country or other governmental jurisdiction where the data protection laws may differ from those of your jurisdiction.
If you are located outside the United States of America and choose to provide information to us, please note that we may transfer the data, including Personal Data, to the United States and process it there.
Disclosure of Data
Disclosure for Law Enforcement
Under certain circumstances, EvolvedPVE may be required to disclose your Personal Data if required to do so by law or in response to valid requests by public authorities (e.g. a court or a government agency).
Legal Requirements
EvolvedPVE may disclose your Personal Data in the good faith belief that such action is necessary to:
To comply with a legal obligation;
To protect and defend the rights of EvolvedPVE;
To prevent or investigate possible wrongdoing in connection with the Service;
To protect the personal safety of users of the Service or the public;
To protect against legal liability.
Third Parties/Service Providers
You understand that EvolvedPVE uses third party vendors and hosting partners to provide the necessary hardware, software, networking, storage, and related technology required to provide you with our services. These third parties have access to your Personal Data only to perform these tasks on our behalf and are obligated not to disclose or use it for any other purpose.
Analytics
We use Google Analytics for website analytics to help us monitor and analyze website traffic and can be used to keep track of user behavior, helping us to improve the services and experience of using them.
Payments
We may provide paid products and/or services within the Service. In that case, we use third-party services for payment processing (e.g. payment processors).
We do not store or collect your payment card details. That information is provided directly to our third-party payment processors whose use of your personal information is governed by their Privacy Policy. These payment processors adhere to the standards set by PCI-DSS as managed by the PCI Security Standards Council, which is a joint effort of brands like Visa®, MasterCard®, American Express® and Discover®. PCI-DSS requirements help ensure the secure handling of payment information.
When you pay for a subscription, we ask for your payment information and billing address so that we can charge you for service, calculate taxes due, and send you invoices. Your payment is passed directly to our payment processor and does not pass through our servers. We store a record of the payment transaction, including the last 4 digits of the credit card number, for account history, invoicing, and billing support. We store your billing address to calculate any sales tax due in the United States, to detect fraudulent credit card transactions, and to print on your invoices.
The payment processors we currently work with are:
Security of Data
The security of your data is important to us but remember that no method of transmission over the Internet or method of electronic storage is 100% secure. While we strive to use commercially acceptable means to protect your Personal Data, we cannot guarantee its absolute security.
Legal Basis for Processing Personal Data under the General Data Protection Regulation (GDPR)
If you are from the European Economic Area (EEA), EvolvedPVE's legal basis for collecting and using the personal information described in this Privacy Policy depends on the Personal Data we collect and the specific context in which we collect it. See Use of Data section above for more information.
Your Data Protection Rights under the General Data Protection Regulation (GDPR)
If you are a resident of the European Economic Area (EEA), you have certain data protection rights. Accordingly, EvolvedPVE recognizes and will comply with GDPR and those rights, except as limited by applicable law. 
In certain circumstances, you have the following data protection rights:
Right of Access. This includes your right to access the personal information we gather about you, and your right to obtain information about the sharing, storage, security and processing of that information.
Right to Correction. This is your right to request correction of your personal information.
Right to Erasure. This is your right to request, subject to certain limitations under applicable law, that your personal information be erased from our possession (also known as the "Right to be forgotten"). However, if applicable law requires us to comply with your request to delete your information, fulfillment of your request will prevent you from using EvolvedPVE services and will result in the deletion of your account.
Right to Complain. You have the right to complain to a Data Protection Authority about our collection and use of your Personal Data. For more information, please contact your local data protection authority in the European Economic Area (EEA).
Right to Object. This is your right, in certain situations, to object to how or why your personal information is processed.
Right to Restrict Processing. You have the right to request that we restrict the processing of your personal information.
Right to Portability. This is your right to receive the personal information we have about you and the right to transmit it to another party. 
Right to Withdraw Consent. You have the right to withdraw your consent at any time where we relied on your consent to process your personal information.
Right to not be subject to Automated Decision-Making. This is your right to object and prevent any decision that could have a legal, or similarly significant, effect on you from being made solely based on automated processes. This right is limited, however, if the decision is necessary for performance of any contract between you and us, is allowed by applicable European law, or is based on your explicit consent.
We may ask you to verify your identity before responding to such requests.
Many of these rights can be exercised by signing in and directly updating your account information. If you have questions about exercising these rights or need assistance, please submit a support ticket here - https://www.evolvedpve.com/support/tickets/create
We may reject requests that are unreasonable or not required by law, including those that would be extremely impractical, could require disproportionate technical effort, or could expose us to operational risks such as fraud. We may retain information as required or permitted by applicable laws and regulations, including to honor your choices, for our billing or records purposes and to fulfill the purposes described in this Privacy Policy. We take reasonable measures to destroy or deidentify personal information in a secure manner when it is no longer required.
Children's Privacy
You must be 16 years of age or older to use our Service in the United States. In certain other jurisdictions, the age of majority may be older than 16, in which case, you must satisfy that age in order to use our Service. 
We do not knowingly collect personally identifiable information from anyone under the age of majority. If you are a parent or guardian and you are aware that your child has provided us with Personal Data, please contact us at contact@evolvedpve.com.
Changes to this Privacy Policy
We will update this Privacy Policy from time to time in response to changing legal, regulatory or operational requirements. We will provide notice of any such changes (including when they will take effect) in accordance with law. Your continued use of our Service after any such updates take effect will constitute acknowledgement and (as applicable) acceptance of those changes. If you do not wish to acknowledge or accept any updates to this Privacy Policy, you will need to deactivate your account with us and stop using our Service.  Your use of any of our Service after the posting of such changes shall constitute your consent to such changes.
Third Parties
Google Analytics
Google Analytics is a web analysis service provided by Google Inc. ("Google"). Google utilizes the Data collected to track and examine the use of this website, to prepare reports on its activities and share them with other Google services.
reCAPTCHA V3
This site uses a CAPTCHA to ensure humans are performing certain actions. The CAPTCHA provider may set a session cookie and get information about your internet browser and device accessing this website.