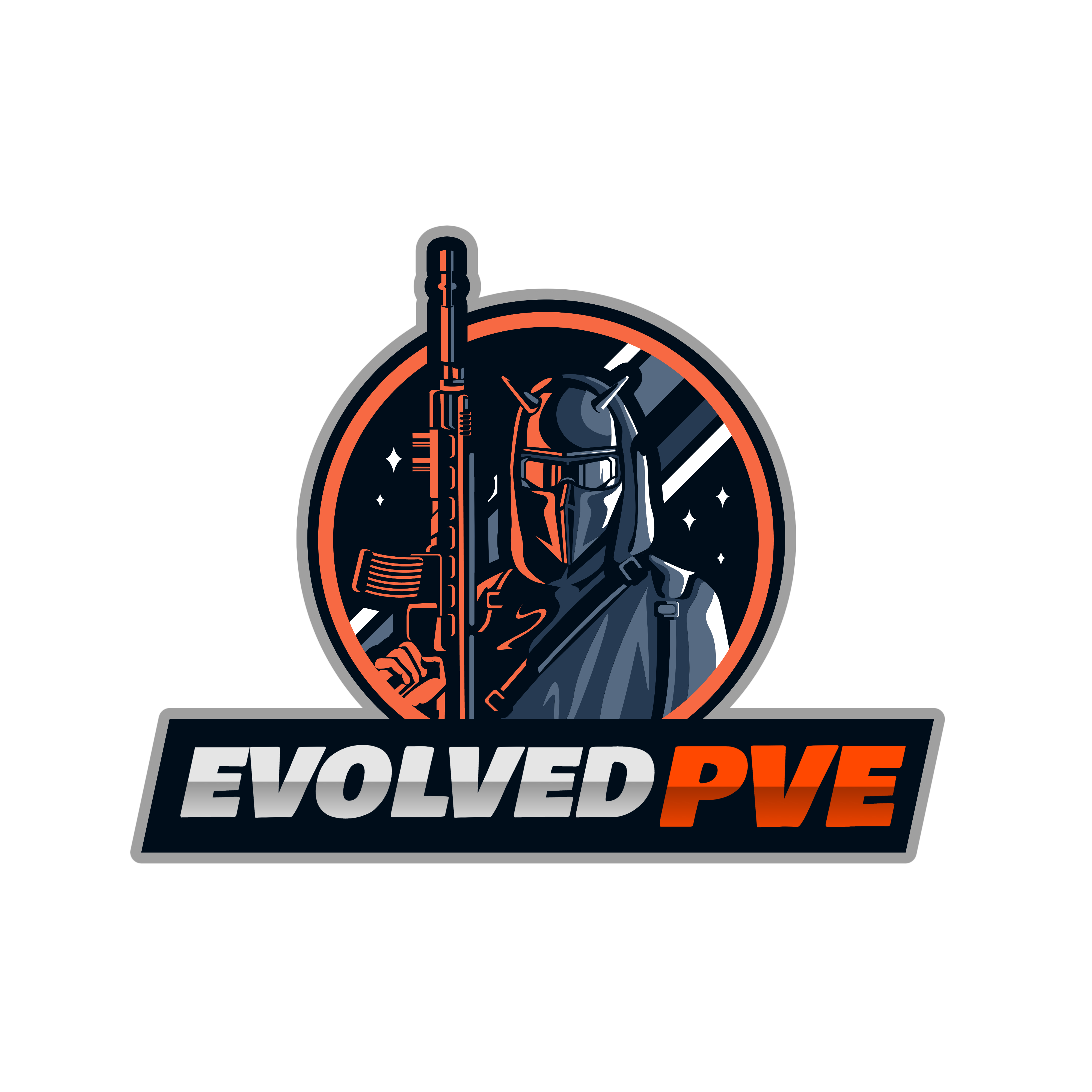 Evolved
I will give an explanation of content that is available on our Rust server. If you have any questions while reading this, feel free to reach out to us on our Discord server.
---------------------------------
[1]

The first event that periodically starts on our server, and which is considered a Hard event, is an event surrounding the Airfield monument. A plane will fly in, dropping several locked crates and airdrops for players to loot. Keep in mind the airfield is heavily guarded by snipers and rifle man.

[2]

We have a system in place to enhance and make teaming easier.
You can create a team the normal way by pressing tab and hitting create team in the bottom left corner. Upon inviting other players to your team, they'll automatically be added to your Tool Cupboard effectively also adding them to all your traps and they'll have immediate access to open locked doors and chests.

You can disable these features by typing in-game chat: /teamauth
Please be careful who you team with, this is Rust after all, and not everyone can be trusted.

[3]

We have backpacks on the server, regular non-verified users have a decent amount of space, verified users have 1 full backpack page, and VIPs have 2 pages worth of space. Only VIPs will keep their backpack on death. You can open you backpack with the command /backpack

[4]

Above your hunger, Hydration and health bar status in the bottom right, your Balance will be displayed. this is your balance of in-game currency.

[5]

We have specific ranks, and those will be visible in the chat with a nice prefix before someone's name.

Currently the following ranks are available on the server.

Default: Non-verified players.
Verified: players that have verified themselves using our Discord server.
VIP: Players that have purchased the vip rank.
Staff: These are our staff members.

[6]

We have custom loot everywhere. Its not custom in the sense that we've added new items to the game for players to mess around with, but more so that we've altered the loot tables to not be as shit as the vanilla loot tables are, and with that we've also vastly increased the amount of loot that drops from specific crates.

[7]

Another system we have in place is dedicated to the NPC's/Enemies on the server. We have the regular facepunch scientists at the junkpiles near the road and vanilla monuments mostly have regular scientists, except for the Airfield monument which has custom npc's roaming around (even outside of the Airfield event)

Oilrigs also have custom NPC's, and you'll find custom NPC's walking around some of the custom monuments on the custom maps that we have.

[8]

On Vanilla servers whenever you build your base, you'll notice that after a while you are no longer able to demolish or rotate building blocks, on our server you can always do that, granted you are the owner of the building and are authorized on the TC.

[9]

On Vanilla servers you have to be standing in front of the Workbench in order to craft items. On our server you do not have to. Aslong you have a workbench in your base, you'll be able to craft anywhere in the building radius of your TC.

[10]

We also have a system in place for VIPs, that will make building extremely easy for them, they can build in the grade they wanna build in by typing in chat: /build
They can select the grade they wish to build in for example stone, and upon building their building it will automatically upgrade the blocks to stone. They will need to have the resources available in their inventory.

[11]

Another event that we consider an easy early game event, is the CargoPlaneCrash event.
Every so often on the server, you'll see a cargo plane crashing into the terrain, on the map you'll be able to see where the crash site is, and you'll find a couple very easy to deal with NPC's at the site, and a locked crate and a couple airdrops to be looted.

[12]

Don't you hate it when you die, and walk back to your body, that you have to loot everything one by one? Not anymore, VIPs have access to a swap button. If they are looting their own body, they can click the swap button, and it'll copy their bodies inventory to their current inventory in the exact same positions.

[13]

Every 24 hours players can view the Daily Rewards section by typing /info and choose a daily reward, upon selecting one out of 3 choices, you will get that reward added into your inventory.

[14]

Many servers have the DeathNotes plugin, we call it KillFeed and it shows in chat whenever you kill specific things, such as for example animals. It will tell you what you killed it with and what the distance to the animal is upon kill. The difference with other servers is, that we have filtered many useless kill stats out of the messages. To prevent chat spam.

[15]

We have a system in place where you are able to authorize your Discord account with your Steam account, effectively verifying that whoever plays on the Steam account owns the Discord account you've joined our Discord with, in return you get the Verified role that gives you access to a whole range of new commands and perks to mess around with.

You can start the verification process by typing /auth in-game chat, and following the instructions, make sure to join our Discord server as well.

[16]

We have an economy system on the server, pretty much anything on the server that you do content wise grants you a specific amount of Dollars in-game currency, that you can use to buy stuff from the in-game Shop or you could use it for other content that might become available in the future.

[17]

We have systems in place that alter the speed of the cargoplane but also announces in chat when people throw supply signals and it adds extra chances on getting more then 1 drop from a supply signal. As well as the ability to shoot airdrops from the sky!

[18]

CCTV cameras do not require power to work, and can be moved around while looking through them.

[19]

We have a way to get weed in-game and make joints that give you specific benefits after smoking them, for a full guide check the Ganja Guide on the left.

[20]

Any event or anything else that happens on the server, most likely has an announcement attached to them, and you'll see those announcements in chat or on the screen.

[21]

Upon hitting enemies/animals you'll see how much you've hit that enemy/animal for. It'll give you the hit damage shown on screen. So you can tell whether you headshotted something or not easily.

[22]

Driving up to your garage with your car, but you don't want to step out of your vehicle to open the garage door? Simply sound the horn of your vehicle to open your garage door so you can drive your vehicle inside!

[23]

Don't you hate it, whenever you jump of your horse that the horse keeps walking away?? On our server horses will stop immediately when you jump off.

[24]

VIPs have access to a system that allows them to gather resources that automatically will be placed into their backpack, or when they are building it retrieves the resources from their backpack? need more information about this system, feel free to reach out to us!

[25]

By typing /info and going to Kits you'll have a selection of kits that you can use, of course each rank will have other kits available to them.

[26]

Another event we have on the server and that is considered a Medium event is the LaunchSiteEvent, every so often a crate spawns on top of the LaunchSite guarded by heavy scientists, upon killing them you get to loot a custom crate with crazy crazy loot.

[27]

Don't you hate it whenever you get to the wounded state or even die, you lose the weapon you were holding in your hands to drop on the floor or in some scenarios fall through the terrain? Not anymore, VIPs have access to a system that will make sure they keep holding the weapon on their belt when they are wounded or die.

[28]

On most servers you have a bag cooldown (sleeping bags/beds) on this server, you do not. You can instantly respawn wherever you want.

[29]

We have a custom panel system, a logo shows on the upper right/upper left, depending on your settings, and you have the ability to change the way the custom UI looks.

[30]

Verified and higher ranks can call in their own personal attack helicopter to fight every hour, upon defeating that helicopter the loot can only be looted by you or your team.
The command is /callheli

[31]

There are leaderboards that reset every wipe, those leaderboards show a whole range of different statistics, and you can battle for the number one position of those statistics with other players, type /pr in chat to see the leaderboards.

[32]

We have an advanced skin system, first you'll have to select the skins you would like to have with the command /skinshop all skins are free in the shop, buy whichever you like for free, and then you finally skin the item hold in your hand by typing /skin.

[33]

VIPs have access to a portable recycler they can use wherever they want, the only thing is, it will have a small cooldown between uses so that it cannot be spammed. VIPs can open the portable recycler by typing /recycler in-game chat.

[34]

When smelting resources in furnaces/refineries or whatever smelting sources, it will go slighter faster then Vanilla rates.

[35]

Discord is linked with in-game, meaning users on Discord are able to read the in-game chat, see notifications from events appearing in-game as well as being able to chat with people in-game through Discord. Discord chat within that channel will appear in-game as well.

[36]

Everything a player does in-game, grants currency. whether it is farming trees, killing animals, killing Bradley, killing the chopper, farming nodes, literally everything in-game will grant players rewards, to spend on items in the game Shop or skill points within a skill system.

[37]

Instead of doing a Bi-Weekly wipe, players can choose for themselves when they wish to wipe their data. If you were to want to wipe mid wipe, you can with a simple command being /selfwipe, you can choose for yourself what it is that you want to wipe.

Keep in mind, we still have a forced wipe every first thursday of the month.

[38]

There is an in-game shop, that you can reach by simply typing /info and going to the shop section within the panel, you can use your in-game currency to purchase items from said shop.

[39]

Players are able to place images onto signs, banners, photo frames etc. simply look at a sign/banner/photo frame and type /sil <imagelink> for the image to show onto the sign/banner/photo frame, keep the images appropriate!

[40]

by typing in-game /skills you'll have access to multiple skill trees where you can build your own character with specific stats and abilities that you choose, upon getting enough XP which you can get by simply playing the game, you'll have a chance to level up, upon leveling up you get 2 skill points to spend on a lot of different skill trees and abilities.

[41]

Whenever you go to sleep in-game, your sleeper cannot get killed nor can they be looted by other players.

[42]

Upon opening boxes as a Verified player, you'll see buttons that allows you to sort the boxes in the way you wish to sort them.

[43]

We have custom stack sizes on the server for every resource you can get, so you don't have to deal with the small Vanilla stack sizes.

[44]

Day time lasts 55 minutes, and night time lasts 5 minutes.

[45]

Meat that you cook in the campfire/BBQ is not able to get burned.

[46]

Verified and up can purchase vehicles with Scrap that they can spawn/recall whenever they want, and other players are not able to steal your vehicles.
The commands are /buy, /spawn, /recall

[47]

Items in vending machines within outpost and banditcamp will never go on cooldown.

[48]

Upon joining the server for the first time, or whenever you type /info you'll open up our custom info panel with a range of information and available commands, please note on the commands page you can switch pages to see other commands using the small arrow facing to the right in the bottom right corner of the screen.
Here is what you need to know about Ganja.

There are three different types of flower, which you can find or grow on this server. In order to obtain Marijuana Flower from planting, you must have an H gene in the clone and each tier requires a different number of H genes. Don't worry, there will be a small Cheat Sheet at the end of this guide with a summary of all important facts! Listed below, from lowest tier to highest, are the flower names, their benefits and how to obtain them.
Dirt Weed (DW)

- can be found in all

Green Biomes

, by collecting Hemp plants. There is a 30% chance of finding DW, so don't forget to collect all Hemp that you find! You can also grow DW in all Green Biomes ONLY. DW requires only 1 H in the genes and its benefit is: 40% more wood for 3 minutes & 1 HP healing per use.
Green Magic (GM) - can only be obtained by planting in

Desert Biomes

! GM requires a minimum of 2 H's in the genes and its benefits are: 80% ore boost for 3 minutes & 4 HP healing per use.
Purple Voodoo (PV) - can only be obtained by planting in

Snow Biomes

! PV requires a minimum of 3 H's in the genes and its benefits are: Max Health increase to 130% for 2 minutes, 100% Scrap boost for 3 minutes & 8 HP healing per use.
Once you obtain the type of flower that you want, you will have to use the Mixing Table to create a Joint, or a "stick". Once you enter the Mixing Table, please press "SHOW CUSTOM RECIPES", to show the required ingredients for each type of Joint (See pic below).
Each Joint requires 1 Note, which can be crafted anywhere on the Map (does not require a Workbench) in your personal crafting menu "Q" and 2 of the same kind of Flower / "Basic Horseshoe" (See pic below).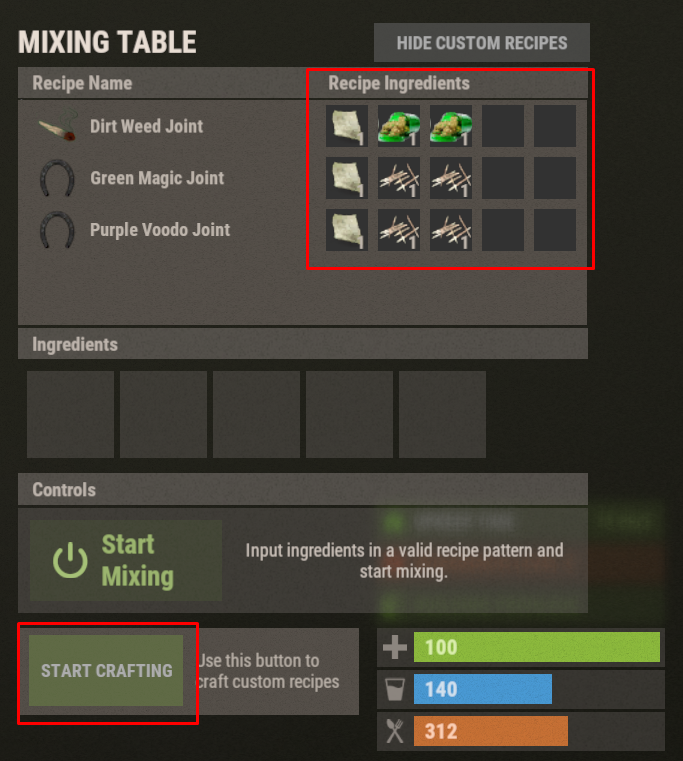 Lastly, after you create the desired Joint, please put it in your hotbar and select it by pressing the designated number on your keyboard or by scrolling your mouse wheel. Note: you may have custom key bindings, but the idea is the same. After you select the Joint, right click your mouse to light it, you will hear a lighter sound and something (good) igniting. Now simply press the left mouse button to take a hit!

Here is a Cheat Sheet with a small summary and important notes to remember:
Dirt Weed: collecting Hemp or Planting / Requires 1 H to grow in Green / 40% wood 3 minutes & 1 HP per use.
Green Magic: only grown in Desert / 2 H / 80% Ore 3 minutes & 4 HP per use.
Purple Voodoo: only grown in Snow / 3 H / 130% Max Health 2 minutes / 100% Scrap 3 minutes & 8 HP per use.
Other important notes:
The best and fastest way to grow flowers on the server is to make a master clone: HHHGGG, because this clone will give you the fastest amount of flower in the least amount of time. Note: having more H's or G's does not provide any additional benefits (Trust me!) i.e. faster growth. Also, having Y's is not beneficial either, you will only get more Cloth, but it will take much longer!
The Joint will continue to burn, unless you right click or select another item in your hotbar, for example your gun or whatever item you may have in your hotbar.
If you extinguish your Joint (see 2 above), then you can use it later and have more uses per each Joint.
You CAN combine the Joint benefits with your Skill Tree XP to increase the total boosts.
You CANNOT combine Joints with Tea's, you will have only 1 boost, for example Max Health Tea and Purple Voodoo Joint - you will not have a Max Health boost of 150%, it's one of the other 20% or 30%!
To sell Marijuana Clones in a Vending Machine, use Basic Horseshoe (black one) as the item that you want to sell for whatever reward you desire.
To sell Joints in a Vending Machine, use Sticks as the item that you want to sell. Note: you can only sell one kind of Joint (ex: Green Magic) per machine... it's a Rust thing...
You do not need heaters in the Green, in the Desert only at night and in the Snow all the time!
Written by: Marecki7